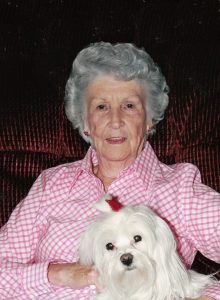 Daisy Marie Mills Mulkey, 91, was born the daughter of George Mills and Cora Norman Mills on July 8, 1928 in Couch, Missouri and departed this life February 5, 2020 at her home in West Plains, Missouri.
Daisy was united in marriage to Howard Mulkey on September 8, 1946 in Mammoth Spring, Arkansas and they shared sixty-one years together until his death.
Daisy was survived by and blessed with 5 children, Ray (Marcia) Mulkey, Springfield, Missouri; Steve (Daryl) Mulkey, Nampa, Idaho; Mark (Barb) Mulkey, West Plains, Missouri; Frances (Tim) Gingles, Peculiar, Missouri; Carol (Mike) Ford; Peace Valley, Missouri; 18 grandchildren, 36 great-grandchildren, numerous nieces and nephews, and three sister-in-laws Verdie Mills, Kay Mills, and Rosemarie Mulkey.
She was preceded in death by her parents, 5 brothers, Elgin Mills, Noel Mills, Jim Mills, Bob Mills, George Mills and 2 sisters, Myrtle Martin and Edna Mills.
Daisy's main priority in life was her family, she made sure they had everything they needed and that her needs came last. Spending time with her children, grandchildren, and great-grandchildren brought her great joy.
Daisy had unwavering faith in God and is remembered by sitting in the church pews asking for prayer for her family, church family, and the nation. She loved reading her bible daily until she was no longer able to.
She enjoyed board games and was a dedicated sports fan. You could guarantee that she would be watching Cardinals baseball on TV and if you called, you would get a run down on what was going on.
She was an excellent cook and took pride in passing down her knowledge to her children. She loved to sew and made her daughter's Sunday dresses and school clothes. She was well known for producing beautiful quilts and enjoyed sharing them with her family and friends.
Daisy will be remembered for her strong devotion to her husband, children, and faith. Her memory will live long in our hearts.
Funeral Services will be held Wednesday, February 12, 2:00pm at the Carter funeral Home Chapel in West Plains.
Visitation will be 1:00pm Wednesday until service time.
Burial will be in New Salem Cemetery, Couch, Missouri.