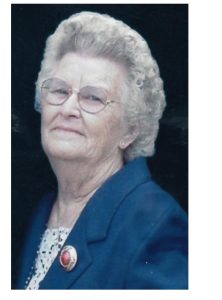 Funeral services for Edith A. Green will be held at 11:00 a.m., December 5, 2018 at Carter Funeral Home Chapel, West Plains.
Edith passed away at 10:00 a.m., Saturday, December 1, 2018 with her loving son, Larry, at her side, just twelve days short her 95th birthday.
Edith was born December 13, 1923 to Ivo and Ruth Shipman Jones. She was the oldest of five children.
Edith A. Jones and Raymond "Pat" Green were married on Edith's birthday in 1941. Their youngest son, Charles, was born on December 13, making December 13 a special day to celebrate.
Edith has always been an inspiration and role model to everyone that had the privilege to meet her. She always put other people's thoughts, feelings, and needs before her own.
She is survived by her children, Larry, Jerry (Virginia), Bob (Judy), Charles (Becky), Ramona Coldliron (Jim), and Patsy Briggs-Stubbs (Henry); her sister, Jane Willis (Marvin); her brother, Jim Jones (Shirley); thirteen grandchildren, Randy Green, Theresa Laffery, Jesse Green, Jeffery Green, Corky Briggs, Kelly Briggs, Jacky Coldiron, Jimmy Coldiron, Pam Elliot, Aleeza Maciariello, Adam Green, Robert Green, and Michael Green; twenty-nine great grandchildren, and four great great grandchildren.
She is preceded in death by her husband, Raymond (Pat); her son, Jacky Ray; her parents, Ivo and Ruth Jones; two grandchildren, Allen Green and Bradley Green; two sisters, Dolors Jones and Audra Thomas (Albert "Tommy).
Edith will be laid to rest beside her husband of forty-seven years Raymond "Pat" and their son, Jacky Ray at New Hope Cemetery, Peace Valley, Missouri.
Visitation will be held Tuesday, December 4, 2018 from 7:00 to 9:00 p.m. at Carter Funeral Home Chapel, West Plains.
Contributions may be made to St. Jude's Children's Hospital in Edith Green's name, and can be left at the funeral home.