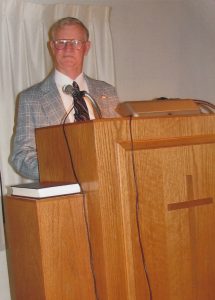 Gerald R. "Pete" Boone was born October 26, 1936 at Hinton, West Virginia to Isaac A. Boone and Clara Hawley Boone. He went to his forever home on February 7, 2020 in West Plains, Missouri at the age of 83.
He was united in marriage to Janice Forristall on July 21, 1961 at Reno First Baptist Church in Reno, Nevada. To this union they added two children Clara and David.
Pete proudly served his country for twenty years in the United States Air Force. He served two tours of duty in Vietnam flying rescue missions. After retiring from the air force, the family moved to West Plains where he was employed at Safeway Charcoal for fifteen years.
He achieved his ordination and went on to preach the gospel at New Liberty and Goodnews Baptist Church.
He loved to feed "his deer" and enjoyed watching the hummingbirds. He loved children and teaching them the word of God.
Pete is survived by his wife, Janice; his daughter, Clara Young; his son, Dave Boone and wife Lisa; sister-in-law, Joyce Ann Forristall, three grandsons, Jason Young and girlfriend Ashley, Wesley Young, Nathan Boone and wife Kialy; one granddaughter, Lynsey Sullivan and husband Cam; three great grandchildren, Kensi Young, Larsen Sullivan and Tanner Sullivan and his little dog buddy "Razz"; as well as several nieces and nephews.
He is proceeded in death by his parents, one brother and three sisters.
In continuing memory of Kiara Holden, the family ask that any contributions be made to "Friends of Kids With Cancer", and can be left at the funeral home.
Funeral Services under the direction of Carter Funeral Home, West Plains, will be held Tuesday February 11, 2020 at 2:00pm at the Bethel Baptist Church near South Fork, Missouri.
Visitation will be held on Monday February 10, 2020, from 6:00pm to 7:30pm at the Carter Funeral Home Chapel, West Plains, Missouri.
Burial will be in South Fork Cemetery, South Fork, Missouri.