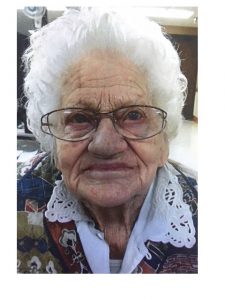 Glessner Delores Lamons Hodges, daughter of the late Antone Lamons and Goldie Logsdon Wadley was born August 4, 1917 in Howell County, Missouri and departed this life July 5, 2019 at Brookehaven Healthcare in West Plains.
She was united in marriage December 29, 1932 at West Plains, Missouri to Rufus Henry Hodges who preceded her in death in 1979. In 2006 she married Howard Keele, who also preceded her in death.
She is survived by her children Hank (Nancy) Hodges of Clinton, Kansas; Darrell Hodges of Clinton, Kansas; J.D. Hodges (Carolyn) of Salem, Arkansas; Dorilleen Vaughn, Salem, Arkansas; Delores (Ray) McKinney, Mammoth Spring, Arkansas; sixteen grandchildren; twenty-nine great grandchildren, and twenty-five great great grandchildren.
She was preceded in death by both husbands; two brothers, Shorty and Earl; two sisters, Nadine and Ruby; two sons Boyd and Dean, and one grandson Lonnie.
Glessner was a homemaker who loved taking care of her flowers, square dancing, jig dancing, and two stepping. She was saved and baptized when she was a teenager. She will be greatly missed by her family and her Brookhaven Healthcare family.
Funeral services for Glessner Hodges will be Thursday, July 11, 2019 at 2:00 p.m. at Carter Funeral Home Chapel, West Plains with Brother Todd Williams officiating, with visitation at 1:00 p.m. until time of service.
Burial will be in Union Hill Cemetery, Howell County, Missouri, under the direction of Carter Funeral Home, Inc., West Plains.