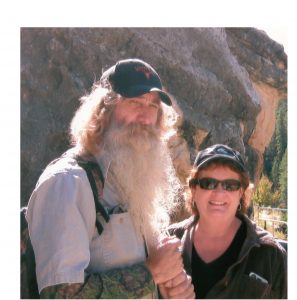 James Lynn Murrell, 68, of Willow Springs, Missouri, passed from this earth on October 12, 2018 at Mercy Hospice in Springfield, Missouri.
He was born to Jim Martin Murrell and Sarah Estelle Cearley Murrell on April 2, 1950.
James and Jeanne Feller Haubert Murrell were married April 21, 1984 at Oak Grove Baptist Church. James was a member of Oak Grove Baptist Church and was baptized at an early age. He was a member of Ingomar Masonic Lodge #536, and was on the MFA Advisory Board. He was also a "member" of Conley's "good ole boy" club in Pomona and enjoyed his time with the guys there.
James was a loving son, brother, uncle, cousin, husband, stepfather, a good neighbor and friend to all. He was a wise, kind and gentle soul.
James had a passion for nature and the land. He worked the family farm where he was raised, and loved his Angus herd, "his girls." He always planted for wildlife, loved growing vegetables and flowers, enjoyed canning and giving away his goods.
James worked for the Forest Service on the Mark Twain National Forest for 42 years, retiring December 31, 2011. He was a firefighter, fighting fires locally and west in California, Idaho, Wyoming and north in Minnesota. He was an expert timber faller, range technician, wilderness ranger, recreation technician, and a certified Para-Professional Archeologist for the Mark Twain. He knew the Mark Twain like no one else, and was called on many search and rescues by local law enforcement. At the end of his career he and many loyal volunteers took care of miles of trails on the Ridgerunner, Devil's Backbone and other areas.
Together James and Jeanne took a number of trips to the California central coast. James was always on the trails, or exploring the beaches. Many trips took them to Wyoming, Yellowstone, the Badlands of South Dakota, Arizona including the Grand Canyon, and trails in Flagstaff and Sedona. The two spent their honeymoon in the Smokey Mountain National Park, exploring the battlefields of the south. They also went to western Michigan many times and to the Allegheny Mountains in Pennsylvania. While traveling, James gained notoriety by looking like Phil on "Duck Dynasty."
James is survived by his wife, Jeanne; stepdaughter Chris Noel Haubert and husband Randy, Marina, California; sisters, Pat McKee and husband, Dale, Willow Springs, Missouri, Linda Wade, Springfield, Missouri; brothers-in-law and wives, John and Bev Feller; Mike and Dianna Feller, West Plains, Missouri; Paul and Patty Feller, Cabot, Arkansas; Gary and Mary Bennett, Tempe, Arizona; sisters-in-law and husbands, Mary and Randy Berner, Nicole Layden, Mountain View, Missouri; Patty and Jack Ford, Springfield, Missouri; many nephews, nieces, family and friends. Special friend and "brother" John Armstrong and wife Jeannie, Fayetteville, Arkansas, and Maria, Mike and Evan Funk, Independence, Missouri.
James was preceded in death by his parents, James Martin and Sarah Estelle Murrell; an infant brother; sisters, Lois Crider, Marinda Lea Katsorelos, Norma Vance and Ruth Wright.
James' spirit will live on forever in those whose lives he touched.
Memorial services will be held on Saturday, October 20, 2018 at 2:00 p.m. at Carter Funeral Home Chapel, West Plains, Missouri.
Visitation time will also be held on Saturday, October 20, 2018 from 1:00 to 2:00 p.m. at Carter Funeral Home Chapel, West Plains, Missouri.