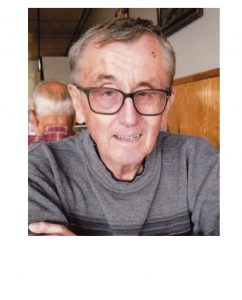 Funeral services for Leo Thompson, 81, Nashville, Illinois, will be 10:00 a.m., Wednesday, September 11, 2019, at the Carter Funeral Home Chapel, West Plains with Reverend Dan Duncan officiating, under the direction of Carter Funeral Home, West Plains.
He was born the son of the late Dugald Thompson and Mary Peters Thompson, on September 27, 1937 in Monona, Iowa and died September 9, 2019 in West Plains, Missouri.
He was united in marriage June 9, 1973 in Sterling, Illinois to Jeanetta Green.
He is survived by his wife, Jeanetta Green Thompson, of the home, Nashville, Illinois; three children, Jerry Lee Thompson and wife, Julie, Wright City, Missouri, Christine Maynard, Rock Falls, Illinois, and Elizabeth Longenecker and husband, Marvin, Pecatonica, Illinois; five grandchildren, Dakota Longenecker and wife, Melissa, Pecatonica, Illinois; Heyleigh Maynard, Baltimore, Maryland; Molly Thompson, St. Peters, Missouri; Willow Thompson, St. Peters, Missouri, and Maia Hafley, St. Peters, Missouri; one great grandson, Jordan Longenecker, Pecatonica, Illinois; extended family, Lucas Durnil, Elyse Durnil, and Mason Taylor, all of Wright City, Missouri; one sister in Christ, Evonda Botka, Flora, Illinois.
He was preceded in death by his parents; one sister, Margaret Grove; one son-in-law, Dale Maynard, and one brother in Christ, Robert Botka.
He was of the Baptist faith, having attended three First Baptist Churches. The locations of the churches are in Missouri, Florida, and Illinois. He received his Associates degree from Sauk Valley Junior College in Sterling, Illinois. He also attended Northern Illinois University in Dekalb, Illinois for three years. He was a member of the Monona High School Bulldog football team and was a proud member of their FFA program. He and two of his cousins, Clyde Thompson and Karen Thompson graduated with the class of 1955 from Monona High School, Monona, Iowa. He grew up living on a farm. He thoroughly enjoyed celebrating his birthday with his granddaughter, Maia Hafley, who celebrates her birthday in September also. He loved to travel, made no difference whether it was by automobile, plane, cruise; he loved it all. His dream as a child was to travel to Europe. He was fortunate enough to go to Europe three times.
Burial will be in Mount Zion Cemetery, in the South Fork, Missouri area, under the direction of Carter Funeral Home, Inc., West Plains.
There will be a Celebration of Life following the committal at the cemetery.