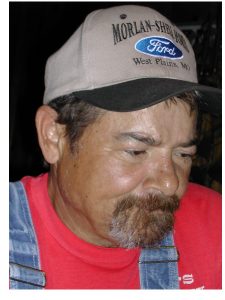 Ricky Webb, 66, West Plains, Missouri passed away June 25, 2019 at his home in West Plains, Missouri.
He was born the son of the late John Webb and Betty Phillips Webb, on January 17, 1953 in West Plains, Missouri.
He was united in marriage January 19, 1973 in West Plains, Missouri to Patty Anstine.
He is survived by his wife, Patty Anstine Webb, of the home, West Plains, Missouri; two daughters, Tanya Webb, West Plains and Tawny Roberts, West Plains; one brother, John D. Webb, Springfield, Missouri; one sister, Fonda Hicks, Mountain Grove, Missouri; three grandchildren, Hope, Faith, and Chance Roberts, all of West Plains.
He was preceded in death by his parents; one daughter, Tracy Webb, and one sister, Brenda Andrews.
He served in the United States Army for three years. He was a loving son, wonderful husband, brother, father, and grandfather, and will be sadly missed by all who knew and loved him.
Local arrangements are under the direction of Carter Funeral Home, Inc., West Plains.