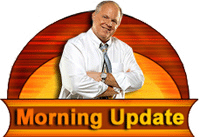 RUSH: This is cold. This is freezing cold.
The Portland Oregon branch of NARAL, the National Abortion and Reproductive Right Action League, has a new promotional product. They're partnering with What's The Scoop, a local ice cream parlor, to produce an abortion-themed ice cream flavor.
I'm not kidding, folks. They're calling it "Rocky Roe V. Wade."  Now, this new abortion ice cream is supposed to help foment "resistance" to Brett Kavanaugh, President Trump's Supreme Court nominee.
People can even buy the abortion ice cream online. But then they won't have the "honor" of watching a bona fide pro-abortion superstar scooping it for them.
Now most normal people would use certain words to describe this abortion-favor ice cream promotion. Words like: perverse, pathetic, deranged, insane, mad, maybe even evil.
And I would agree, but I've got another word, and that's relieved. I'm relieved NARAL and the What's The Scoop ice cream parlor didn't invite Planned Parenthood to join the promotion. Then they might be offering pints of abortion ice cream with body parts sprinkled on top. Don't get mad at me folks, I'm not the one doing that. They are.