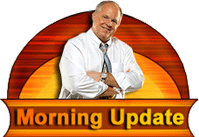 RUSH: A big battle is going on at Harvard, folks — a predominant liberal institution of higher learning.
A couple years ago, administrators issued an ultimatum. If single-gender groups — like a fraternity or sorority — didn't open their doors to everybody, to all genders, members would be shut out of campus leadership positions, and wouldn't win postgraduate fellowships. And that's a big deal.
The ultimatum came after a report slammed all-male groups for "deeply misogynistic attitudes." The goal was to stamp out "male predation" at Harvard.
Well, Harvard got tough and hit the guys hard. But now it's their female students, the sororities who are suffering.
Last week a Harvard sorority refused to include males, but they didn't want their members to face any penalties for it. So the national Delta Gamma organization announced that their Harvard chapter is just gonna quit. They're gonna shut down rather than bend and let men in there. (Bend and let men…? Well…)
So for the time being, "freedom of association" is taboo at Harvard University, especially with members of the same sex.
Another example of liberals eating their own. It's very tasty, isn't it?