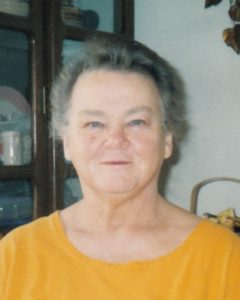 Wanda Jean (Davis) McKinney was born on February 27, 1946 in Camp, Arkansas, the daughter of Elmo Lee Davis and Dorothy Jane Carolina (Hardin) Davis, and departed this life on November 14, 2018 in Springfield, Missouri at the age of 72 years.
At the age of sixteen, she met the love of her life, Iva Paul McKinney. They were united in marriage on July 7, 1962 and spent fifty wonderful years of marriage before his death in 2012. To this union three sons were born, Joseph Daniel, Timothy Matthew and Stephen Mark.
She is survived by sons, Joseph Daniel McKinney and wife, Jodie Lynn, Timothy Matthew McKinney and Stephen Mark McKinney and wife, Rogia Annette, all of West Plains, Missouri. She is survived by her siblings, Paul Don Davis and wife, Wanda, Patsy Collins and husband, Tommy, and Fred Davis and wife, Teena, all of Mammoth Spring, Arkansas. She is also survived by five grandchildren, Daniel McKinney and wife, Crystal, Korrie Vance and husband, Jermyn, Bethany Sullivan and husband, Mike, Mariah McKinney and Travis McKinney; four great grandchildren, Zade Cypret, Oliver McKinney, Sierra Sullivan and Sloan McKinney; a close friend, Larry Mullison of Saratoga, Wyoming; many nieces; nephews; cousins, and friends.
She was preceded in death by her parents, Elmo and Dorothy Davis; her husband, Paul McKinney; one great grandson, Axel Bo; two infant sisters, Wilma and Alma Jewel Davis; and one brother, Donald Lee Davis.
Wanda was excellent cook and enjoyed getting together with her family and friends for a good home cooked meal. She enjoyed jig saw puzzles, writing and playing games. She was a great listener and was known for giving out many words of wisdom.
She gave her heart to the Lord Jesus Christ early in life. She built her life on the Rock, knowing that was how her eternal soul would survive. She loved the Word of God, reading and studying faithfully. For many years, she taught young people at church, hoping to instill in them the love for Christ. Even as her health failed, she still attended and enjoyed church services.
She will be remembered as a loving and caring mother, raising her family in the Way of Jesus Christ. As much as she loved her family, her heart and mind was set on "making it to her eternal home" with a great desire that all family and friends would follow. She will truly be missed by all that knew her.
Funeral services for Wanda Jean McKinney will be held on Monday, November 19, 2018 at 1:00 PM at the Carter Funeral Home in West Plains, Missouri with Pastor Mark McKinney officiating.
The family will receive friends at Carter Funeral Home in West Plains on Sunday, November 18, 2018 from 6:00 PM to 8:00 PM.
Interment will be in Pleasant Hill Cemetery with services under the direction of Carter Funeral Home, Inc. in West Plains, Missouri.